Major Accomplishments at UMass
While he is most proud of the achievements that the University has made in teaching, research, and service -setting records in enrollment, student quality, applications, financial aid, endowment, research volume, and commercialization of intellectual property from research - he is particularly proud that he was able to launch a number of new initiatives at the University during his eight year term including:
The University of Massachusetts School of Law at Dartmouth- The first public law school in Massachusetts history.

The University of Massachusetts Club with over 1000 members at 225 Franklin St, Boston-UMassClub

The Massachusetts Green High Performance Computing Center (MGHPCC)
-a joint venture with MIT, Harvard, Boston University, Northeastern, EMC, and CISCO.

The Edward M. Kennedy Institute for the Study of the Senate (EMKInst)

The President's Science and Technology Fund (PS&T)
-that generated a 30 to 1 ROI in the first year and has continued to grow research to over $536 million in 2010.

Three NSF Engineering Research Centers (ERC) and an NSF Math Science Partnership (MSP)

The President's Commercial Ventures and Intellectual Property (CVIP) Technologies Fund
- stimulating commercialization of University Research and moving us into the top ten in 2009.

The President's Creative Economy Fund (CEF)

Conducted a $1.6 Billion Capital Building Program and planned $2.9 B more.
-includes several new dorms, an award winning co-generation power plant, new research buildings and new classroom buildings.
Major Accomplishments at RPI
Founded the Harlan Andersen Center for Innovation in Undergraduate Education

Created the award winning interactive high tech classrooms -The Studio Classrooms.

Won the The Theodore Hesburgh Award -1995

Won the The Pew Charitable Trust Prize -1996

Launched a major effort in "Continuous Education."

With grants from NSF, FIPSE, IBM, AT&T and others he created the first network based full video, audio, chat, screen sharing, and interactive learning system.

He spun that research into a company, ILinc, and then took it through three rounds of venture capital into a public company listed on the NASDAQ exchange as Mentergy which had a market value of about $500 million in March 2000 after he sold it.

Served as the J. Erik Jonsson '22 Distinguished Professor of Physics, Engineering Science, Information Technology, and Management at Rensselaer Polytechnic Institute

Served at various times as Dean of the Faculty, Dean of the Graduate School, Dean of the Undergraduate School, and Dean of Continuing Education.

Served as interim Provost for two years during the Presidential Transition.
Sloan Consortium -2013: The Frank Mayadas Leadership Award, http://sloanconsortium.org/sloan-c-awards/2013

The Boeing Award -1995,

The Pew Charitable Trust Prize -1996 .

Army -2001: Outstanding Civilian Service Medal by the United States Army for service to the Army Education program.

A Fellow of American Physical Society -named in 1998,

Named a Fellow of the National Online Consortium as covered in Bloomberg News. August 4, 2015 The OLC Press release is here.

National officer of the American Physical Society (APS), the American Institute of Physics (AIP), and the American Assn. of Physics Teachers (AAPT).

Distinguished Service Citation -1995, Am. Association of Physics Teachers

National Academy of Science and National Research Council study committees and task forces: service as either a member or chair of several committees

ECS: He was appointed in 2005, by Governor Mitt Romney, as a Massachusetts Commissioner to the Education Commission of the States and re-appointed by Governor Deval Patrick.

FBI -2011: Exceptional Service in the Public Interest

Massachusetts Technology Leadership Council: Workforce Leader of the Year -2010

Massachusetts All Star 2005: Mass High Tech Magazine 2005

Good Scout Award 2010 by the Knox Trail Council of the Boy Scouts of America; Nov. 2010

Massachusetts Network Communication Council 2005: "Long term contributions to the industry"
UMass Medical School Tribute 2011
Jack Wilson on Entrepreneurship in Mass High Tech Magazine
NECN: On the Times of London Rankings short teaser
NECN: On the Times of London and UMass Reputation
NECN: UMass Law
WGBH: On Leaving UMass and becoming interim President of the Edward M Kennedy Institute for the United States Senate
"On Stewardship" at the 2010 UMass Lowell Commencement
Boston Venture Center Opening with Keith Motley
NECN: Globe Reports: "I have accomplished what I set out to do."
NECN: UMass and Its Role in the Economy
NECN: Public Universities and the Recession, Edward M Kennedy Institute
NECN: Stimulus Funding Allows Fee Rebate
"Getting Into and Paying for College" hosted by WBZ
"What is Stem Education" at UMass Lowell
Edward M Kennedy Institute for the United States Senate Groundbreaking
Topping Off the Albert Sherman Center at UMass Medical School
The University of Massachusetts: Truly World Class
By The Numbers: Changes Over his Eight Year Term as President

Student Enrollment: Up 18%
Fall 2003: 57,853 >> Fall 2010: 68,315 (+18 percent))

Degrees Conferred: Up 29%
Academic Year 2002-2003: 10,701 >> Academic Year 2009-2010: 13,803 (+29 percent)

UMass Spending On Financial Aid: Up 267%
FY 2003: $36 million >> FY 2011: $131.5 million (+267 percent)




<Boston Herald><UMass>

Research Funding: Up 69%
FY 2003: $320 million >> FY 2010: $541 million (+69 percent)
<Boston Globe><UMass><BostonBusJrnl><MassHighTech>

Intellectual Property Income: Up 105%
FY 2003: $20 million >> FY 2010: $41 million (+105 percent)




<UMass> <MassHighTech>

Endowment: Up 247%
June 30, 2003: $146 million >> December 31, 2010: $507 million (+247 percent)

Total University Budget: Up 87%
FY 2003: $1.5 billion >> FY 2011: $2.8 billion (+87 percent)

UMassOnline Revenue: Up 1766%
Fiscal Year 2001 $3 million >> FY 2010: $56 million
Jack Wilson appointed CEO of UMOL in 2001

UMassOnline Enrollment: Up 814%
Fiscal Year 2001: 5,009 course enrollments >> FY 2010: 45,815 course enrollments

SAT/GPA (UMass Amherst): Up 2.6% and 10% respectively
Fall 2003: 1,137; 3.28 >> Fall 2010: 1167; 3.61 (SAT +2.6 percent; GPA +10 percent)

Overall Fundraising:

Original Graph appeared in Boston Globe article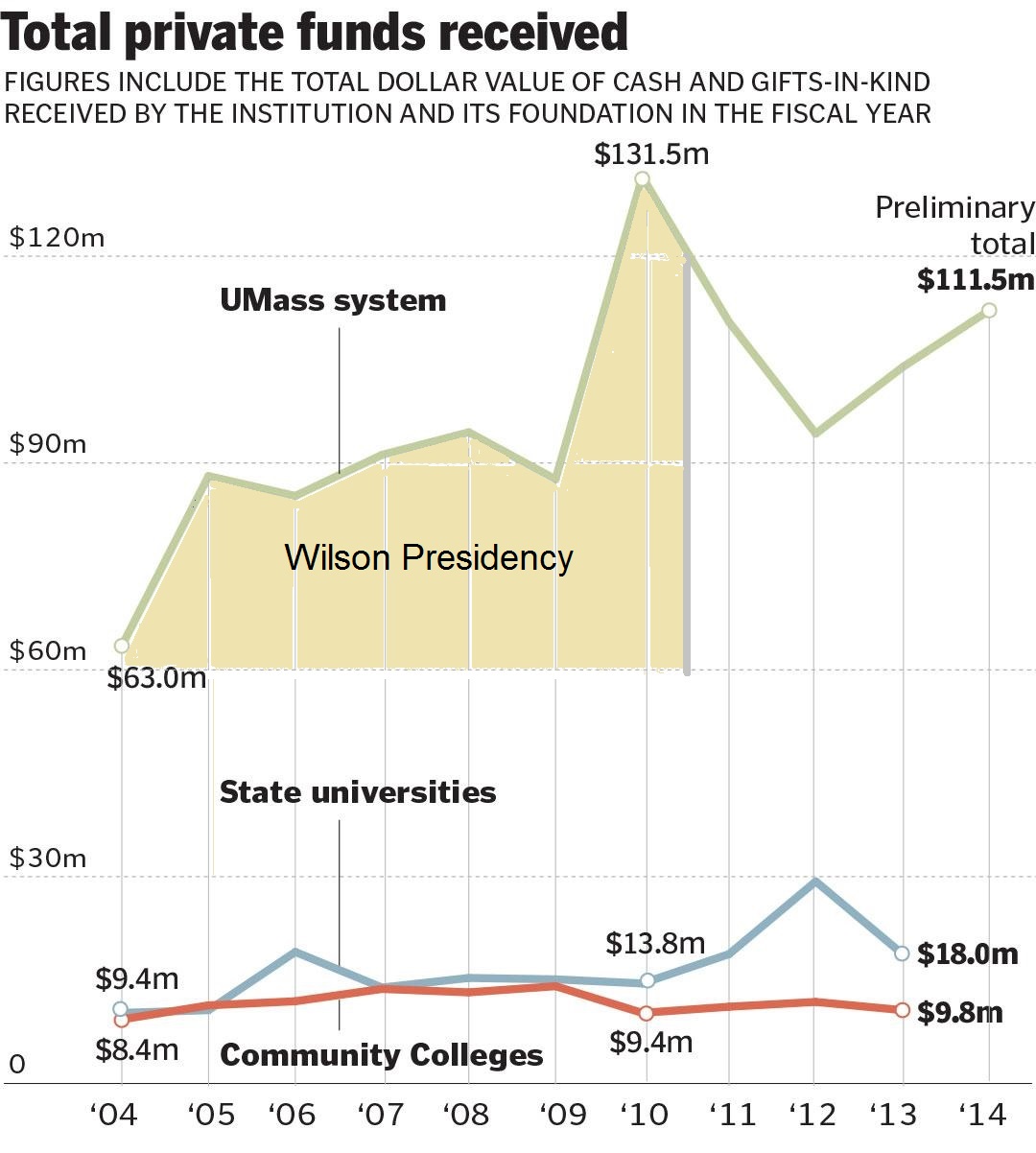 University Growth
During Dr. Wilson's term, the University grew in many ways.
we obtained four of the major National Science Foundation ERC or MSP programs (our first),

fee increases have been held to under the cost of living in every year except one,

the University has made great strides in hiring new faculty members.

in 2006, Craig Mello, a Professor at the UMass Medical School won the Nobel Prize for Physiology or Medicine, and thereby demonstrated just how outstanding the faculty and research are at the University.

Extensive global programs have been launched with China, Germany, South Africa, India, Portuguese speaking countries, and many others.

the University contributed over $4.8 billion to the Massachusetts economy in Fiscal Year 2010 <UMass><BostonBusJrnl>

provided a return on investment of more than $11 for every $1 in state money that UMass received

On March 1, 2009, Dr. Wilson announced that he intended to conclude his Presidency on June 30, 2011. By giving nearly a year and a half notice to the University, he felt that there would be sufficient time to do a national search for his successor. <Press Announcement> ,<Boston Globe>, <Mass High Tech Journal>

Dr. Wilson took office following two years of serious state budget cuts that had reduced the state appropriation by approximately $150 million, and at a time when the relationships to the Governor and Legislature were in need of attention. In the face of these serious challenges, the University embarked upon a program to close the budget gap, rebuild our finances, increase financial aid to students, grow research, build endowment, increase our support from the business community, and enhance our global opportunities for students and faculty. In order to emphasize the critical role that the University plays in the Commonwealth, he would often assert that:

"The path to economic and social development in Massachusetts goes through the University of Massachusetts."

The economic and social development of the Commonwealth indeed does depend upon the University's teaching, research, and service. With over 60,000 student on five campuses, 45,000 enrollments in UMassOnline, and over 13,000 students graduated into the workforce each year, the University of Massachusetts provides the large scale opportunity for students and employers. These students change the world in countless ways. With over $536 million in annual research expenditures, we are right behind MIT and Harvard in external funding for research. Our $72 million in revenue from our research commercialization (FY2009) means that we continue to rank either 1st or 2nd in Massachusetts to MIT with Harvard right behind for the last few years. Our $2.9 Billion budget in FY2011 is seeded with just under $500 million from the Commonwealth -up from $326 million in mid 2003, but cuts have been proposed for FY2012.

One of Dr. Wilson's first actions was to completely restructure the UMass Building Authority in anticipation of efforts to rebuild the infrastructure of the University. While we worked hard to increase capital funding from the state, we knew that we would have to do most of this work ourselves. In the last six years, we have accomplished over $1.6 Billion in capital projects with only about 20% of that coming from the state. This includes the first dormitories built in Amherst in the last 30 years. Dorms, power plants, research buildings, classroom buildings, and athletic facilities have all been built in recent years. At the Board meeting in the fall of 2007, the University of Massachusetts Board of Trustees approved a $2.9 Billion capital plan to guide the University over the coming decade.
Board Memberships: He presently serves or has served on several national organizations:
Chairman of the Board of the U.S. Dept. of Education Fund for the Improvement of Post Secondary Education (FIPSE). 2010-2014

The national Board of Directors of the American Public and Land Grant Universities (APLU) 2009-2011

The Chair of the Commission on Innovation Competitiveness and Economic Prosperity (CICEP) of APLU 2009-2011.

The National Security Higher Education Advisory Board (advising the FBI, CIA, and Homeland Security) 2010-2011

National Academy of Science/National Research Council Committee on Undergraduate Education Research and Implementation 2010-2012

The national Board of Directors of the Alliance for Research in Science and Technology for America (ASTRA)

the National Leadership Council of the Association of American Colleges and Universities program on Liberal Education and America's Promise.

chairs the Sloan/NASULGC Online Task Force for the Nat. Assn. of State Universities and Land Grant Colleges.

ECS- The Education Commission of the States -2004-2014
Dr. Wilson also serves or has served on several regional boards including:
served as Co-Chair (with Presidents Drew Faust, Harvard; Susan Hockfield, MIT, and Henri Termeer, Genzyme) of the Massachusetts Life Science Collaborative of Business and Universities.

served as Vice Chair of the Commonwealth Life Science Center charged with dispersing an anticipated $ 1 Billion in investments in the Life Science Sector. (Five member Board Chaired by the Secretary of Economic Development.) from 2005-2011

serves as a member of the Massachusetts Clean Energy Center board, Chaired by the Secretary of Energy and the Environment, from 2009-2011.

the Massachusetts Technology Leadership Council (MassTLC),

the Massachusetts Business Roundtable (MBR),

the Massachusetts Technology Collaborative

the Massachusetts Defense Technology Initiative (MassDTI),

the New England Council.

UMass Medical School Tribute 2011

Jack Wilson on Entrepreneurship in Mass High Tech Magazine

NECN: On the Times of London Rankings short teaser

NECN: On the Times of London and UMass Reputation

NECN: UMass Law

WGBH: On Leaving UMass and becoming interim President of the Edward M Kennedy Institute for the United States Senate

"On Stewardship" at the 2010 UMass Lowell Commencement

Boston Venture Center Opening with Keith Motley

NECN: Globe Reports: "I have accomplished what I set out to do."

NECN: UMass and Its Role in the Economy

NECN: Public Universities and the Recession, Edward M Kennedy Institute

NECN: Stimulus Funding Allows Fee Rebate

"Getting Into and Paying for College" hosted by WBZ

"What is Stem Education" at UMass Lowell

Edward M Kennedy Institute for the United States Senate Groundbreaking

Topping Off the Albert Sherman Center at UMass Medical School

The University of Massachusetts: Truly World Class